Welcome to the Koogler Group
Classroom, Online, and National Courses
The Koogler Group offers a wide range of educational programs, products, and services – prelicensing, certification, regulatory compliance, CE/CLE courses, job skills and business basics training – delivered in a variety of formats including textbooks, online training, classroom sessions, and national lecture tours.
Concerned about federal compliance issues?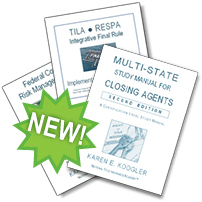 Federal Compliance Trilogy
We have a wide range of products and programs designed to meet or exceed CFPB regulatory compliance recommendations:
CFPB
Preparing for a state licensing exam?
We offer the prelicensing programs and products that will get you ready for the test:
Want to attain the next level of industry professionalism?
We have the products and programs designed for industry certification: