July 2021 Special Edition Industry Education Bulletin: Cyber Awareness Training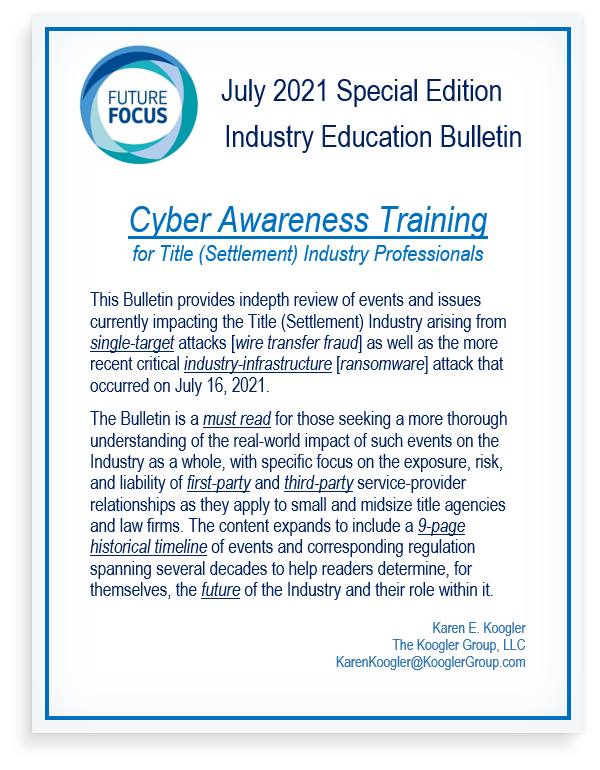 This Education Bulletin is a "must-read" for those seeking a more thorough understanding of the real-world impact of cyber-related events on the Industry as a whole.
This free and informative Bulletin provides in-depth review of events and issues currently impacting the Title (Settlement) Industry arising from "single-target" attacks [wire transfer fraud] and the more recent critical "industry-infrastructure" [ransomware] attack that occurred on July 16, 2021.
It includes a nine-page historical timeline of regulatory-world and real-world events to help "connect-the-dots" from Past to Present so readers may "predict" the Future for themselves and, in so doing, protect and preserve their place within the Industry.
Knowledge is power – Empower a friend by emailing a link to this page
By accessing this document, you agree to the terms of our Privacy Statement.
Content Overview
Author's Note
Cloudstar Ransomware Attack
Back-to-Basics: Industry Liability for Protecting "NPI" and "OPM"
GLBA and State Privacy Laws
FBI Internet Fraud – Scams and Safety [Definitions]
Liability Landmines for Small Business Owners
The Aftermath of a Ransomware Attack
Transactional "Parties" and Your Potential Liability
Data Breaches and Finger-Pointing
Do "Do" Due Diligence
Predicting the Future and Focusing on Our Collective Strength
Regulatory-World Repercussions and Real-World Reverberations
The "Writing on the Wall" – Grab Your Eraser!
The Importance of Cyberliability Insurance
Industry Educational Resources including Data Privacy and Cybersecurity
Summary