Federal Compliance Risk Management Manual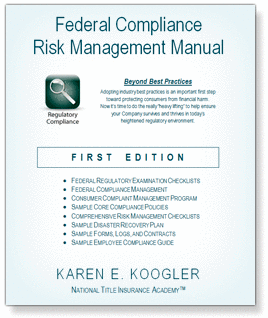 SKU: FCRM
Avail: 3 Days
Mfg: National Title Insurance Academy
$175.00

The Federal Compliance Risk Management Manual was written with small ["micro"] and midsize business owners in mind. Whether yours is a "Mom and Pop" title insurance agency or small "boutique" law firm writing title insurance and conducting closings, this book is for you.
The 500-page manual includes over 70 pages of compliance checklists derived directly from the CFPB Examination Checklists used by Bureau personnel to audit supervised banks and nonbanks [including mortgage lenders] on federal compliance issues. In turn – via CFPB Bulletin 2012-03 – [mortgage lenders] must ensure that all service providers [including title (settlement) agents] are also in full compliance. The compliance checklists were modified to focus on federal examination issues relating to the title (settlement) industry.
An important part of compliance is having written policies and procedures on regulatory compliance issues and risk management protocols and proving that all applicable personnel have been fully trained and are acting in compliance with same. Since many, if not most, small ["micro"] and midsize business owners do not have written protocols, we took the liberty of drafting sample core compliance policies on regulatory acts and issues [CMS, Consumer Complaint Management, UDAAP, RESPA, TILA, and GLBA]. The book also provides a 200-page risk management section which supports development of Company-specific risk management policies and procedures. Last but not least, we added dozens of sample forms, logs, and contracts.
Covered Topics
The Federal Compliance Risk Management Manual includes the following information:
SECTION ONE – COMPLIANCE MANAGEMENT

Compliance Management System
Consumer Complaint Management Program

SECTION TWO – FEDERAL COMPLIANCE

Unfair, Deceptive or Abusive Acts or Practices [UDAAP]
Real Estate Settlement Procedures Act [RESPA]
Truth-in-Lending Act [TILA]
Gramm-Leach-Bliley Act [GLBA]
Electronic Signatures in Global and National Commerce Act [ESIGN]

SECTION THREE – RISK MANAGEMENT

Risk Management Introduction
Confidential Information
Fair Credit Reporting Act [FCRA]
Risk Management Checklists
Disaster Recovery Plan
Service Provider Guidance
Federal [CFPB] Risk Assessment

SECTION FOUR – POLICIES AND PROCEDURES

Policies and Procedures Introduction
Sample Core Compliance Policies

SECTION FIVE – SAMPLE EMPLOYEE COMPLIANCE GUIDE

50-Page Sample Employee Compliance Guide

SECTION SIX – SAMPLE FORMS

Sample Contracts and Agreements
Sample Employee Acknowledgment Forms
Sample Compliance Tracking Logs
Sample Disaster Recovery Forms