New York Study Manual for Title Insurance 2nd Edition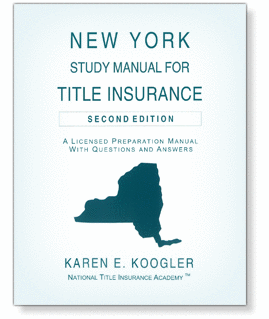 SKU: NYSM2
Avail: 3 Days
Mfg: National Title Insurance Academy
This item is no longer available. Alternative items may be listed below.

Please Note
If you are attending the New York 20-Hour Title Agent Prelicensing Course, please check with your Course Provider to determine whether the Course is based on the 2nd Edition or the newly released 3rd Edition. The 2nd Edition textbook will be discontinued as of July 1, 2019 and will no longer be available for purchase.
The 600+ page New York Study Manual for Title Insurance covers all items shown on the New York Agent's Examination for Title Insurance Series 17-81 Exam Content Outline and includes hundreds of sample questions to help prepare potential licensees for the state exam. The Study Manual also includes coverage of additional material -- including chapters on current federal laws -- deemed pertinent for those entering the industry as well as more seasoned professionals.